Thursday, May 4, 2000 4:00 PM UTC
Time warp
In "Cyberselfish," Paulina Borsook denounces high-tech culture as pitiless, egotistical and libertarian. She was right in 1996.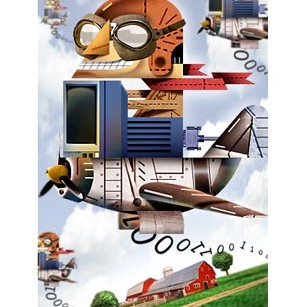 Only after I'd read well into Paulina Borsook's "Cyberselfish" and grown quite grumpy with it (the entire time I was reading, I felt trapped in late 1996) did it occur to me that most of the readers of this spirited book-length essay might not experience this time warp — not as severely, anyway. Nor would they likely know or care about the circumstances that contributed to its being dated-on-arrival. Some readers, I realized, might even pick it up without a predisposition toward its author. This was an astonishing thought.
Whether you were at the center or periphery of the San Francisco/South Park and Silicon Valley office park circles Borsook chronicles in "Cyberselfish," it's almost assured you met her or read one of her rants, including the essay for Mother Jones that launched this book. For those who didn't, Borsook is a lively, well-read, sarcastic writer who's infamous for pissing on the inside for all to see (mostly while as a contributor to Wired magazine, where — full disclosure — I worked) and for getting some things said that are on a lot of minds, but that are not getting said.
She's especially talented at sketching caricatures and does so throughout "Cyberselfish," where we meet a host of cypherpunks and nerverts (nerds who indulge in unusual sex), ravers and gilders, entrepreneurial newts and programming flamingos. Her sketches are true enough that you nod and think, yeah, I know the type. Indeed, at its best, "Cyberselfish" reads like the "Radical Chic" of mid-1990s San Francisco.
Problem is, this strength also highlights the book's flaw: Her sketches are snapshots of a moment that has come and gone. A large part of the reason for this involves the book's rocky publishing history. "Cyberselfish" was originally set to be published three years ago by Hardwired, the now-defunct imprint of Wired Ventures, but the book bounced to Broadway Books when Borsook had a falling-out with Wired, and then to Public Affairs, a new division of Perseus Books, after a falling-out with Broadway. But a lot has changed since 1996.
---
Back to Top